Construction work on the Shoah Wall of Names Memorial was started in March 2020. At first it consisted of preparatory work. Under the Ostarrichi Park there are two underground garages. It was necessary to reinforce the roof covering of both, to prevent the weight of the Walls of Names from causing fractures. Garage exhaust systems also had to be removed from the Memorial site. Those renovations were completed at the start of November 2020. Since then, the foundations for the Walls of Names have also been set.
The Walls of Names are made up of 180 "Kashmir Gold" granite slabs. Each slab is 1 m wide and 2 m high. They were produced in India, the only location where they are available. November 2020 they arrived in Italy, where they were polished. They arrived in Vienna December 2020.
The engraving of the over 64,000 Names was done in the stone merchant's workshop, with computer controlled equipment. It took seven months. Being independent of the weather, engraving was carried on through the winter.
On March 25 th 2021, the first granite slab on which Names had already been engraved was taken to the Ostarrichi Park and installed on the foundations. At that festive event, all the official participants in the Memorial Project were present. Since then, construction has progressed effectively.
The completion of the Memorial is planned for September 2021.
The Festive Inauguration Ceremony of the Memorial has been scheduled for Tuesday November 9 th 2021. It is expected to be a significant international event.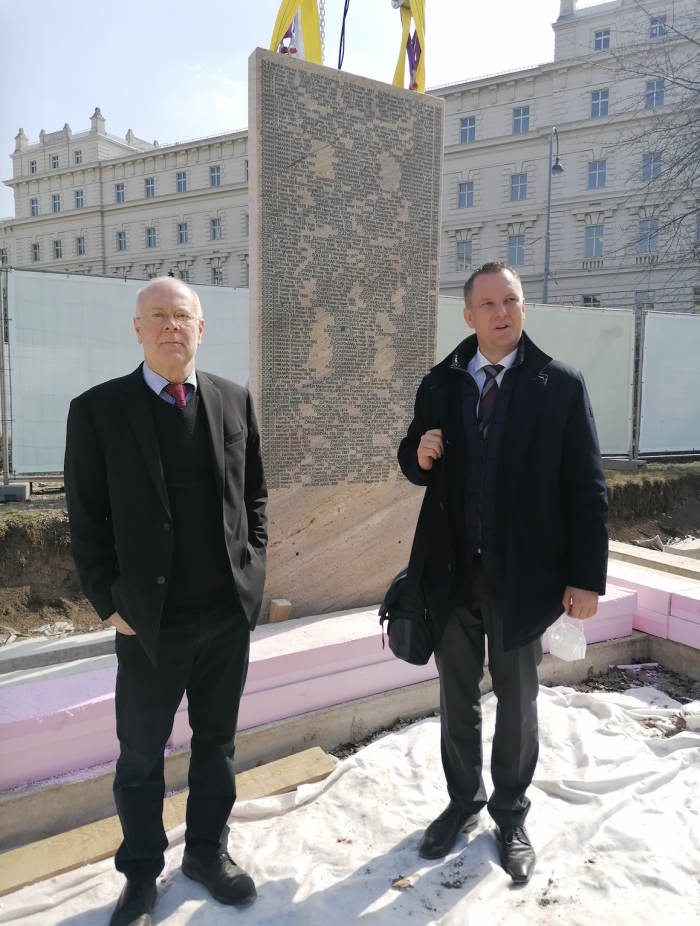 The first granite slab with engraved names is set on the foundations in the Ostarrichi Park site, March 25th 2021.
Standing in the foreground are Architect DI Wolfgang Wehofer and Construction Manager DI Wolfgang Schiechl.
The first granite slab with engraved names is set on the foundations in the
Ostarrichi Park site, March 25 th 2021. Photo: Copyright Parliament
Standing in the foreground are the official participants at this festive event.
From left to right:
Hannah Lessing, Secretary General, Austrian National Fund
Chancellor of Austria, Sebastian Kurz
Wolfgang Gleissner, General Manager, Government Construction Corp.
Federal Cabinet Minister Karoline Edtstadler
Architect Wolfgang Wehofer
Walther Lichem, Chairperson of the Society for the Memorial
Oskar Deutsch, President of the Jewish Community Council
Vienna City Councillor for Culture and Science, Veronika Kaup-Hasler
President of the Austrian National Assembly, Wolfgang Sobotka
Governor of the Austrian National Bank, Robert Holzmann
CONSTRUCTION SITE, OSTARRICHI PARK June 17 th 2021
As of this date, 36 of the 180 granite slabs had been installed on the site.
Photo: Wehofer Architects