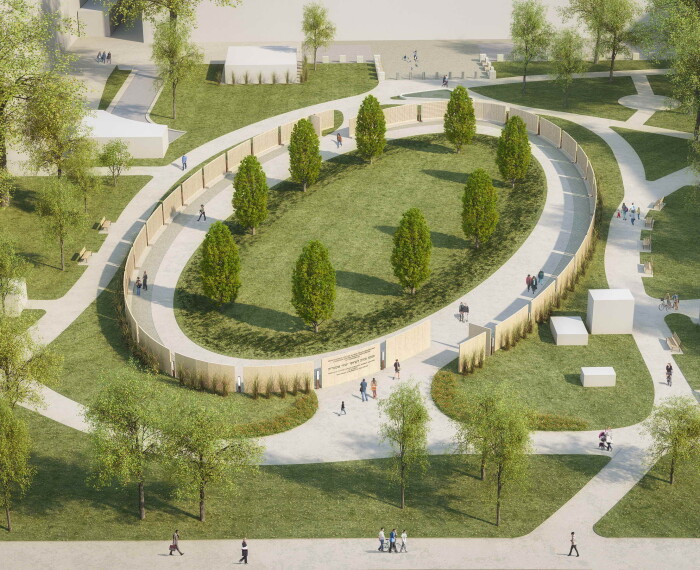 SHOAH WALL OF NAMES MEMORIAL VIENNA
| | |
| --- | --- |
| Concept of the Memorial: | Kurt Yakov Tutter |
| Layout and Landscaping: | Univ.Prof. Dr. John Cirka MRAIC |
| Design, Wall of Names: | Wehofer Architects, Vienna |
---
This aerial view represents quite accurately, what the Memorial will look like.
The Walls of Names are arranged in an elliptical format. The Names and year of birth of the over 64,000 Jewish Children, Women and Men of Austria, who perished in the Shoah, will be engraved on the inside of the walls.
In front of the Walls of Names there is a path, along which family members who survived the Shoah can search for the Names of their grandparents, parents, brothers and sisters who perished, touch the letters with their hand, say a prayer and light a memorial candle.
For all Austrians, the Memorial should offer a quiet place, where they can remember the fate of their Jewish fellow-citizens and honour their lives.
In the middle of the Memorial there is a green area, planted with trees and shrubs. As landscaping design, this green area reminds us of the beauty of nature, which we should always keep in mind, even in sorrowful circumstances.
This green area, which at its center is about 30 cm higher than the path, is however also intended to remind us of the mass graves in Maly Trostinec, Belarus, where over 10.000 Jews from Vienna were horribly murdered by Wehrmacht Soldiers and SS Troops.
The Walls of Names are only 2.10 meter high, so as to allow for comfortable reading of the Names.
The Walls of Names are divided into 5 meter long units, with a 60 cm distance from one unit to the next. These 60 cm distances do not allow for any passage into the Memorial. They are used instead for vertical lighting fixtures, which will greatly enhance the appearance of the Memorial during evening hours.
The total length of the Walls of Names is 200 meter.